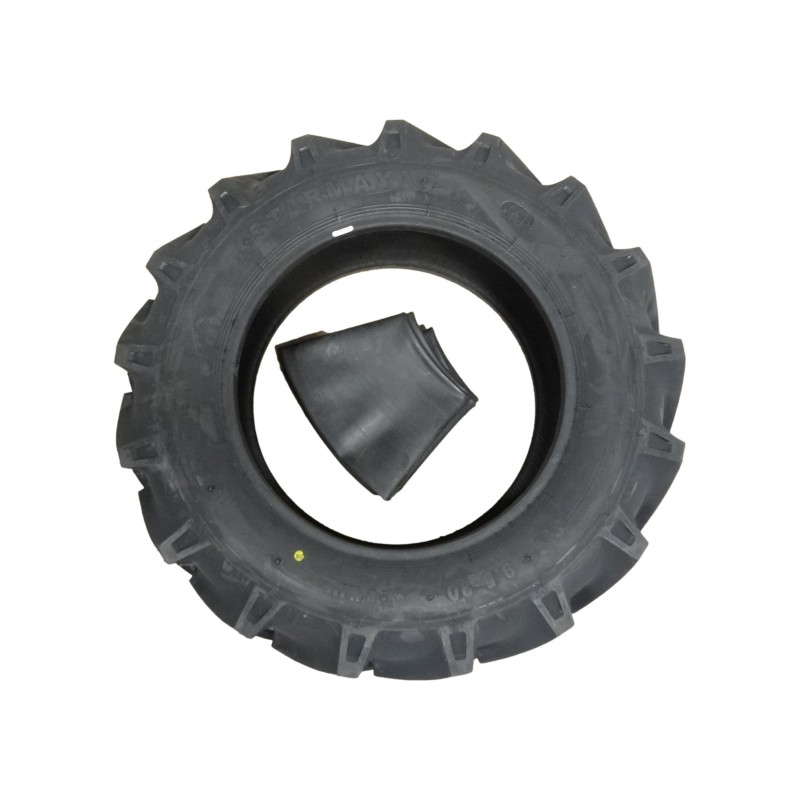  
9.5-20 Starmaxx TR60 R-1 Lug Compact Tractor Tire 8 ply WITH Tube
Price is for ONE tire with tube.
9.5-20 StarMaxx TR60 R-1 Lug Tire with Tube. See description for specs.
MPN: TR609520

Description
Price is for ONE tire with tube. New 9.5-20 StarMaxx TR60 R-1 lug compact tractor tire. These are 8 ply rated for 1465 lbs per tire at 40 psi and 10 mph. They are tube type tires and I include a new tube with each tire. StarMaxx lists the mounted inflated specs as 37.2" overall diameter with a 9.49" section width.The tube we include will have the TR218 air/water valve and can be liquid filled for ballast if desired. We recommend you replace BOTH tires as these may not match up in height to your old tire. We have seen some of the tires that came on the import tractors incorrectly sized, if you replace both tires both will match in height and mating up with an old or other brand tire is not an issue.
Product Details
Data sheet
Applications

Tractor

Tread Design

R-1 Tractor Lug

Ply Rating / Load Range

8 ply rated LR-D

Type

Tube Type Requires Tube

Construction

Bias
Reviews
No customer reviews for the moment.
2 other products in the same category:
Tube will be identified with: 8.3/9/9.5-20 Fits Sizes: 8.3-20, 9-20, 9.5-20 MPN: TU0518
Tube will be identified with: 8.3R9.00R9.50R10.00R12.5R18/20 Fits Sizes: 12.5/80-18, 8.3-20, 9.00-20, 9.5-20, 10.00-20 MPN: 552496